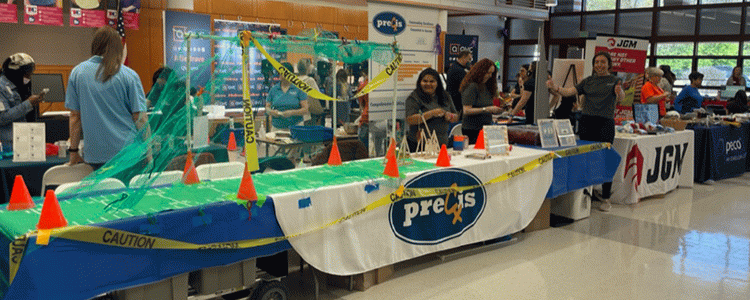 News & Notes from the Field
Posted
2022-05-01
by
Kari Donovan
in
Announcements
PrecisCx proudly served as a 2022 Visionary Sponsor for Girls Exploring Tomorrow's Technology (GETT). On Saturday, 30 April 2022, girls in grades 5-10 explored hands-on activities and interacted with women in science, technology, engineering, and math (STEM) careers. Members of the PrecisCx team, including President Kari Anne Donovan, PE, CxA; Operations Lead Pam Biasi; and Commissioning, Qualification, and Validation (CQV) Engineers Lauren Kachnycz and Ruchi Patel attended the event and hosted an Expo Table. The full PrecisCx team also participated in pre-Expo Day activities.
"GETT provides an opportunity for young women to interact with women in STEM fields and to visualize themselves in these careers," said Donovan. "This interaction is key to engaging the next generation and enthusiastically encouraging young women to pursue careers in STEM."
GETT began in Chester County, Pa., in 2001 as a response to the under-representation of young women in the computer and information technology fields. Since then, GETT has expanded its reach to expose students from around Southeastern Pennsylvania to additional STEM fields. GETT is an initiative of the Innovative Technology Action Group (ITAG), a program under the Chester County Economic Development Council. For more information, visit https://gettpa.org.