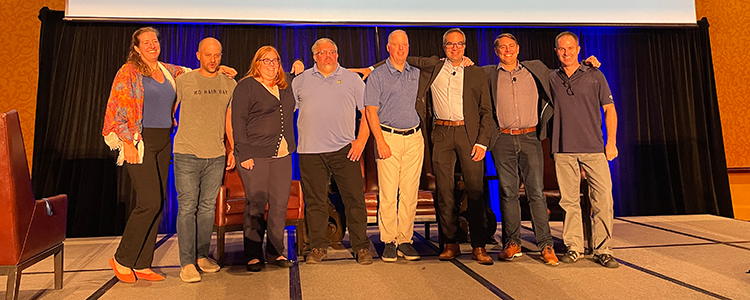 News & Notes from the Field
Posted
2022-09-26
by
Kari Donovan
in
Announcements
PrecisCx President Kari Donovan, PE, CxA; Director of Commissioning Harry B. Koons, III, LEED AP, CxA; and Senior Commissioning, Qualification, and Validation (CQV) Engineer Stephen Obermeier attended the Building Commissioning Association (BCxA) Annual Conference in Glendale, Arizona, September 21-23, 2022. The national gathering attracted hundreds of attendees for networking, educational sessions, exhibits, and an awards program.
From discussions about the future of the built environment to details about integrated testing, monitoring-based problem detection, and new commissioning software, the conference offered thought-provoking and informative learning experiences.
"Our goal is always to remain at the forefront of the commissioning industry," explained Donovan. "The PrecisCx team heard new perspectives, learned new techniques, and ensured we continue to balance service delivery with best practices. Attending the BCxA national conference was a great experience."
BCxA is an international nonprofit organization with more than 1,200 members from the commercial building industry who are committed to the highest standards and practices for commissioning. For more information or to become involved with BCxA, visit https://www.bcxa.org.