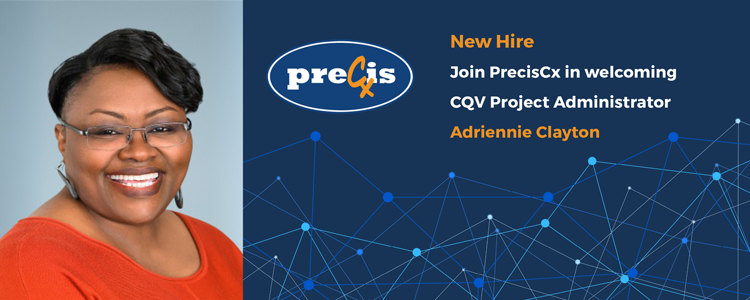 News & Notes from the Field
Announcements
Posted
2022-12-06
by
Kari Donovan
in
Announcements
Join us in welcoming Adriennie Clayton to the PrecisCx team. She joined us in late October from Lendlease, where she participated on the Merck account and built relationships with our commissioning and qualifications team. Adriennie appreciated the PrecisCx detail-oriented client service model, which pairs well with her own attention to detail.
Adriennie serves as Commissioning, Qualification, and Validation (CQV) Project Administrator, supporting CQV teams and the company with project administration, marketing, and DEI initiatives. Her professional background includes a decade in nonprofit educational administration followed by another decade supporting project management for Lendlease. Her involvement has included contract management and recruiting. She holds a B.S. in Business Administration from Southern New Hampshire University.
Adriennie leverages her can-do attitude and ability to learn on the fly to establish her administrative roles as positions of great value. She never hesitates to build bonds, create new workflows, and make processes smoother for the teams she supports. She carries this enthusiasm to her volunteer activities. Adrienne is a Pennsylvania Judge of Elections, serving on a local election board and providing polling place oversight. She supports the nonprofit More Than a Handout with grant research and writing. She helped write the bylaws and start a church in Georgia. She even holds the 2017 Miss Classic Indianapolis pageant title.
Outside of work, Adriennie enjoys reading, crocheting, making custom wreaths, and spending time with her two adult sons.
Connect with Adriennie on LinkedIn: https://www.linkedin.com/in/adriennie-clayton-b412b1a